Coming Soon:
October Arts & Lecture Series
This October, meet three women who dared to be different. From a mother's courageous journey in a rural Nepalese village, to the school mistress who dramatically influenced the The King and I, to the rip-roarin' western legend of Calamity Jane, discover stories of dynamic and intrepid women during Fishtrap's Fall Arts & Lecture Series.
Fishtrap continues its 27-year tradition of bringing interesting people and thought-provoking events to Wallowa County. The public is invited to three lectures all with Oregon authors who have explored legendary characters and while doing that, looked inwards toward themselves.
Fishtrap's Fall Arts and Lecture series begins Thursday, October 2 with a book release party and presentation for Elizabeth Enslin's, While the Gods Were Sleeping: A Journey through Love and Rebellion in Nepal followed by a book signing and party with live music, drinks, and Nepali-inspired snacks. The series continues with weekly events throughout the month.
Wednesday, October 29 at 7pm
Richard Etulain: The Life and Legends of Calamity Jane
Fishtrap House, 400 Grant St.
$5

Everyone knows the name Calamity Jane. Scores of dime novels and movie and TV Westerns have portrayed this original Wild West woman as an adventuresome, gun-toting hellion. Although Calamity Jane has probably been written about more than any other woman of the nineteenth-century American West, fiction and legend have largely obscured the facts of her life. Etulain's lively, concise, and exhaustively researched biography traces the real person from the Missouri farm where she was born in 1856 through the development of her notorious persona as a Wild West heroine.
Richard W. Etulain is Professor Emeritus of History and former director of the Center for the American West at the University of New Mexico. Former editor of the New Mexico Historical Review, he is the author or editor of more than 50 books, including Beyond the ​Missouri: The Story of the American West and Telling Western Stories: From Buffalo Bill to Larry McMurtry.​
Fishtrap Fireside
Friday, November 14 at 7pm
Fishtrap Fireside is a monthly event for Wallowa County writers to read and share their work. The event takes place the second Friday of every month October through April from 7:00pm to 9:00pm at the Fishtrap House, 400 East Grant Street in Enterprise. Upcoming writers include, Benjamin Curry, Amy Zahm and Rich Wandshneider among others. The community is encouraged to attend these events, enjoy light refreshments and hear new work by local writers.
Every month, we light a fire in the fireplace and open the doors for an evening of readings and storytelling. Events highlight three local writers from the area followed by an open mic. We encourage the community to attend these events. Find a seat by the fire, hear new work by local writers, and even share a few stories of your own. $5 suggested donation.
 2014-2015 Dates

Friday, October 10
Friday, November 14
Friday December 12
Friday, January 9
Friday, February 13
Friday, March 13
Friday, April 10
About the Open Mic
Open mic readings five minutes or less. A sign up sheet is available at the event on a first come, first served basis.
Fishtrap
400 E. Grant, Enterprise, Oregon
For more information contact Fishtrap Program Manager, Mike Midlo.
Phone: 541-426-3623
Email: mike@fishtrap.org
Recent Events
---
Wednesday, October 22 at 5:30pm
Potluck & Reading: Welcome Fishtrap's New Team
Fishtrap House, 400 Grant St.
Free Admission
Welcome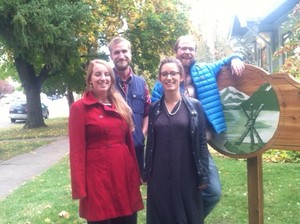 Fishtrap's newest staff members with a potluck dinner and gathering. Our new Office Manager/Administrative Assistant, , Eric Greenwell is off to a great start and has already made a big difference in making things work more smoothly. Last year Fishtrap began an exciting partnership with Oregon State University where they send two MFA graduate students to live in Wallowa County and work at Fishtrap for a year. This year, we're lucky to have Maya Polan and Alyssa Halton join us. Plus, we're thrilled to be able to welcome back Cameron Scott to the Fishtrap family who is returning as part of a five year project called Fishtrap Story Lab to revitalize writing in the schools. Help us give these four a big Wallowa County welcome. All are talented writers and will be sharing short bits of writing with us.
Thursday, October 2 at 7pm
Elizabeth Enslin: While the Gods Were Sleeping: A Journey through Love and Rebellion in Nepal.
The Josephy Center, 403 N Main St., Joseph
Free Admission

While the Gods Were Sleeping is Elizabeth Enslin's intimate and compelling story of the challenges of marriage, pregnancy, and childrearing in a foreign land—among Brahman in-laws in a remote village in the plains of Nepal. While struggling to adapt to her new life, she discovers unexpected allies among local women and ultimately discovers as much about human resilience and the capacity for courage as she does about herself.
Elizabeth Enslin grew up in Seattle and went on to earn her Ph.D. in cultural anthropology from Stanford University. While a graduate student, she married into a Brahman family in the plains of Nepal. She has published creative nonfiction and poetry in The Gettysburg Review, Crab Orchard Review, and The High Desert Journal, among other publications. She lives in Wallowa County.
Tuesday, October 9 at 7pm
Film Screening: The King and I
Fishtrap House, 400 Grant Street, Enterprise
$5

The film and stage versions of The King and I were inspired by Anna Leonowens' accounts of her life in Siam. View the film before attending Alfred Habeggar's lecture and learn how Leonowens may have misrepresented an Asian people, and a nation.
Thursday, October 16 at 7pm
Alfred Habeggar: Masked: The Life of Anna Leonowens, Schoolmistress at the Court of Siam.
Fishtrap House, 400 Grant Street, Enterprise
$5

Masked is the first critical, fact-based biography of Anna Leonowens, the elusive India-born teacher who inspired The King and I. Based on fresh research on five continents, the book traces her hard itinerant life before, in, and after Bangkok, showing why someone of part-Asian ancestry ended up misrepresenting an Asian people and nation. Masked also explores why Leonowens's claim to have brought democracy to Siam held a profound appeal to Americans after the Civil War, and then once again in the 1940s and 1950s, when her story offered a kind of mythical support for America's historic shift from isolationism to foreign interventionism.
Formerly a Professor of English at the University of Kansas, Al Habegger is the author of many scholarly articles and five books, including The Father: A Life of Henry James, Sr. and the acclaimed My Wars Are Laid Away in Books: The Life of Emily Dickinson. In the 1970s he and his wife, Nellie, began building a log house on their land in the northern Wallowa County, where they now reside. They make occasional trips to their daughter-in-law's village in northeastern Thailand.
 Summer Fishtrap July 7-13

The 27th Summer Fishtrap Gathering of Writers takes place at Wallowa Lake. We still have a few spots open in the Songwriting Workshop with Marv Ross and Amy Minato's Youth Workshop (ages 10-14). Go to our Summer Fishtrap Schedule page to learn more about all the great things we've got planned and, see a list of events that are free and open to the  public.
3rd ANNUAL FISHTRAP SPEAKEASY
June 28 at 7:30pm
Josephy Center
Join us for an evening of
jazz and poetry with Matt Cooper and Kevin Cahill.
This Fishtrap fundraiser includes music, entertainment, prohibition-style attaire and raffle prizes including a coast getaway, Wildhorse Casino package, book package and more. The event is all in support of Fishtrap's great programs AND a special appeal to help us replace our aging furnace – a creature from the dark ages that works at only 40% efficiency and leaves us shivering next to space heaters all winter! Come on out to have a great evening and support Fishtrap!
Tickets are $20 in advance and $25 at the door.
Boathouse reading with author & raft guide Vince Welch June 25, 2014

Author & raft guide Vince Welch reads at the Winding Rivers Boathouse in Joseph, Oregon. Learn about the amazing river running life of Haldane "Buzz" Holmstrom as Welch reads from his book The Doing of the Thing – the Brief, Brilliant Whitewater Career of Buzz Holmstrom.
Look Closer: May Spring Arts & Lecture Series
Thursday May 29 at 6:30pm
The Mushroom Hunters: A Wild Mushroom, Wine Tasting and Literary Evening with Langdon Cook
at Fishtrap
Writer, instructor, and lecturer on wild foods and the outdoors Langdon Cook joins us for an evening of wild mushrooms, wine, and literature! Langdon will read from and discuss his Pacific Northwest Booksellers Award winning non-fiction work, The Mushroom Hunters: On the Trail of an Underground America about which Kathleen Flynn, author of The Sharper Your Knife, the Less You Cry writes, "With superb detail and intrepid research, Langdon Cook leads a fascinating trek deep into the mysterious world of mushroom hunting, blending intriguing natural history and quirky characters with insight into this murky, sometimes dangerous business. Riveting stuff for food lovers." Come early to sample freshly prepared wild mushrooms and have a glass of wine, and learn about opportunities to join Langdon on a mushroom foraging outing! This event is hosted in partnership with Slow Food Wallowas. Admission: $10. [CLICK HERE FOR TICKETS]
Writing in the Wild, a Writing Workshop with Langdon Cook
Inspiration in nature is as ancient as language itself. In this workshop we'll divide our time between indoor and outdoor classrooms. Langdon Cook, author of the "The Mushroom Hunters" and "Fat of the Land," will lead participants in a series of exercises to use all our senses, hone powers of observation, and transform note-taking into narrative. Bring pen, notebook, and imagination.
Friday May 16 at 7:00pm

Breaking Chains: R. Gregory Nokes & Gwendolyn Trice on Slavery and Jim Crow in Oregon
at Fishtrap

Journalist, historian, and author R. Gregory Nokes returns to Fisthrap to share a multimedia presentation drawing from his Oregon Book Award nominated non-fiction work, Breaking Chains: Slavery On Trial in the Oregon Territory. Greg will be joined in conversation by Maxville Heritage Center Executive Director Gwendolyn Trice, who will also share a video presentation. The two hope to draw connections between the legacies of slavery and Jim Crow laws in our local history in what promises to be an illuminating conversation. $5 suggested donation.
Josephy Lecture – Wednesday, May 7 at 7:00pm
Lewis and Clark among the Nez Perce with Allen Pinkham and Steve Ross Evans
Fishtrap and The Josephy Center present the inaugural Alvin Josephy Lecture with Allen Pinkham and Steve Ross Evans authors of Lewis and Clark Among the Nez Perce. $5 suggested donation.
Sunday, May 4 at 4:00pm

A Celebration of the Schlick Family –  The Josephy Center
Join us for a celebration of the unique legacy of Mary Dodds Schlick. Author of Columbia River Basketry, Gift of the Ancestors, Gift of the Earth, Mary has devoted much of her life to preserving, celebrating, and educating others about the basketry, craftwork, and folkways of Native Peoples of the Columbia River Plateau. Mary will be joined by her daughter, author Katherine Schlick Noe, and son, musician Joe Schlick. Katherine will share from her novel, Something To Hold, based on her experience growing up on the Warm Springs Reservation, many portions of which began in workshops at Fishtrap's Summer Gathering of Writers. Joe will share songs, some composed at Fishtrap's Imnaha Writers' Retreat. Mary's presentation will give insight into basket weaving techniques,and will kick off a two-week exhibition of her own basketry and examples of traditional Plateau Indian baskets at the Josephy Center. This event is hosted in partnership with the Josephy Center and is free to the public.
Fishtrap Fireside – Friday, April 11
It's the final Fishtrap Fireside of the season. Join us Friday April 11 at 7:00pm for an evening of stories and readings by the fire. This month features work by Kristy Athens, Pamela Royes and Eileen Thiel followed by an open mic reading. Fishtrap Fireside is a monthly event for Wallowa County writers to read and share their work. The community is encouraged to attend these events. Bring refreshments, enjoy the fire and hear new work by local writers.
Wallowa Resources WREN Program: Nature Journaling – April 4

Fishtrap partners with Wallowa Resources' WREN program April 4 offering a Nature Journaling class to 5-8th graders. Kristy Athens will take kids on a guided hike and help them turn their experiences into written word. CLICK HERE to learn more about Wallowa Resources' WREN program and register.
A Fishtrap Sampler: A Fundraising Evening of Delicious Literary and Culinary Bites
Saturday, March 15, 2014 in Portland