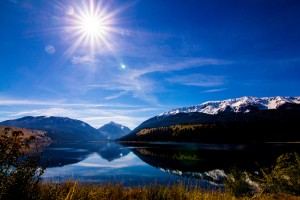 From the Wallowa Mountains To You
A Fishtrap Sampler
Join us
Saturday, April 18
at EcoTrust for a Fishtrap fundraising event featuring literary and culinary bites from Wallowa County. Enjoy readings by Robert Michael Pyle and Karen Fisher while sampling an Arrowhead chocolate, sip a Terminal Gravity beer while listening to music from Kate & Steve and bid on auction items all while supporting Fishtrap's great programs.
Online ticket sales have ended–please get your tickets at the door! Doors open at 7pm.
Robert Michael Pyle
Robert Michael Pyle taught at Fishtrap's Outpost Workshop in 2011 and will return again in the summer of 2015. He writes essay, poetry, and fiction from an historic Swedish farmstead, eight miles up a tributary of the Lower Columbia River. His eighteen books have received the John Burroughs Medal, the National Outdoor Book Award, a Guggenheim Fellowship, three Washington Book awards, and a PNBA book Award. Pule is is a widely respected lepidopterist and author of several standard butterfly books including The Butterflies of Cascadia. His most recent titles are The Tangled Bank: Writings from Orion; new editions of Chasing Monarchs and Mariposa Road; and his latest, Evolution of the Genus Iris: Poems.
Karen Fisher
Karen Fisher begins teaching her second Fishtrap Yearlong Workshop this summer. She is the author of A Sudden Country, and the upcoming Heart of the Monster. A PEN/Faulkner finalist, Washington State Book Award winner, and NEA fellow, she works as a developmental editor and novel coach, and has taught for the University of Washington, the Northwest Institute of Literary Arts, and Fishtrap. Her in-progress experiments include memoir, nonfiction, poetry, and things that don't know what they are. She writes, teaches, and raises children and horses from her home on Lopez Island.
Kate Power & Steve Einhorn
The music of Kate & Steve delivers the real deal in a push-button world. Long time owners of Portland's Artichoke Music, they sold the business in 2009 and took to the road teaching and performing across the country. Kate & Steve have appeared as special guests on Garrison Keillor's A Prairie Home Companion and won the Grand Prize from Music2Life in Kerrville, Texas.


Fishtrap Story Lab
In the fall of 2014, Fishtrap and Joseph Charter School launched a new, forward-thinking program bridging the ancient art of storytelling with 21st century tools. See what these students are creating and how Fishtrap Story Lab is changing kid's lives in Wallowa County.
Online ticket sales have ended–please get your tickets at the door!