Hello! My name is Emma Carlson, I am a recent high school graduate and have decided to spend the next year of my life as, (among other things) an intern at Fishtrap Inc.  Each year two interns from Oregon State University who are interested in promoting Fishtrap's message and comfortable with the prospect of living in a Starbucksless wasteland move to Wallowa County and work in the Coffin House for a year. Traditionally one person spends the majority of their time at our nonprofit's headquarters and the other travels around the County teaching in the local schools. Two years ago OSU intern Sally Parish began a blog to document and showcase the writing and art work produced by her students. Sadly, after Sally's return to Corvallis, the blog eventually died a slow and quiet death. Over the course of this year I make it my mission to resuscitate the website and inform all who care to know of the weekly goings on at Fishtrap.
To kick things off, Eugene author and 2014 Fishtrap Fellowship recipient Eliot Treichel is set to release his second published volume, "A Series of Small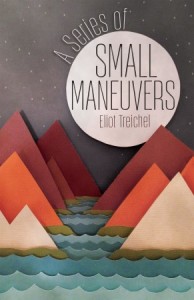 Maneuvers" on November 1st of this year. The novel is currently available to preorder now, and will be stocked in your local bookstores later this fall. Both of Treichel's books were published through Ooligan Press who's website you can access by clicking the link below to gain more information on both Eliot and his work.
Ooligan Press's Facebook page is also a valuable recourse.
https://www.facebook.com/ooliganpres