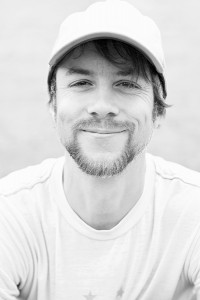 We're happy to welcome Justin Hocking to the Summer Fishtrap faculty this year. Winner of the 2015 Oregon Book Award for Creative Nonfiction for his memoir The Great Floodgates of the Wonderworld, Justin is a dynamic teacher and educator. Last summer, he read at Fishtrap as part of the Literary Arts' author tour, and we knew right away that Justin would be a great addition to the Fishtrap faculty.
Justin's workshop is titled, "Exploring the Frontiers of Cross-Genre Writing." This is a great opportunity for those who are curious to explore writing beyond the confines of a particular genre. Justin writes, "So often in literary culture, rigid boundaries enforce a distinct segregation between various modes of writing. However, by always corralling our work within narrow property lines, we end up hindering our most untamed creative impulses. In this generative writing workshop, we'll explore the creative exhilaration and growth that can arise when we allow ourselves to roam the fertile territory beyond genre."
Watch Justin Hawking read from his award winning memoir here:
The Great Floodgates of the Wonderworld
Summer Fishtrap takes place July 10–16, 2016. The conference features week long workshops in poetry, fiction, and nonfiction as well as panel discussions, open mic sessions, and a keynote by Robert Michael Pyle. Click here for more information.