Adult Workshops
---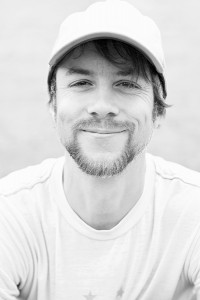 Exploring the Frontiers of Cross-Genre Writing
So often in literary culture, rigid boundaries enforce a distinct segregation between various modes and genres of writing. However, by always corralling our work within narrow property lines, we end up hindering our most untamed creative impulses. In this dynamic workshop, we'll explore the creative exhilaration and growth that can arise when we allow ourselves to roam the fertile territory beyond genre. We'll pay particular attention to the braiding of personal narrative and memoir with research, science, and environmental writing, as practiced by writers such as Rebecca Solnit, Barry Lopez, Brenda Miller and Annie Dillard. We'll also play with the vibrant form known as the "lyric essay"—a new frontier in writing that blends poetry and prose, musicality and meditation.
Justin Hocking
Justin Hocking, a former backpacking guide of the San Juan Mountains in southwestern Colorado, explores issues of place, ecology, and human connection to landscape and seascapes in his creative work. His recent memoir, The Great Floodgates of the Wonderworld, won the 2015 Oregon Book Award for Creative Nonfiction, was named a finalist for the 2015 PEN USA Literary Awards, a Barnes & Nobel Discover Great New Writers selection, was one of the Library Journal's "Best Books of 2014," and was included as one of the "Ten Brilliant Books that Grab You From Page One" in the Huffington Post.  Hocking is a recipient of a 2015 Oregon Literary Fellowship, and a 2014 Humanitarian Award from the Willamette Writers.  He is the co-founder and lead instructor of the Certificate Program in Creative writing at the Independent Publishing Resource Center, and currently he teaches in the Wilderness Writing MFA program at Eastern Oregon University.
---

Cutting the Fence: Blending the Interior and Exterior Landscape
In masterful observation, Gary Snyder writes, "'Place' has a kind of fluidity […] A place will have been grasslands, then conifers, then beech and elm." The same can be said for characters and place in our essays and fiction—they need change. In this workshop, we'll examine how to gracefully dance between the landscape of the heart, and the landscape of the earth—and how, as writers, we render both in order to deepen theme, further plot, and develop characterization. Throughout the week, you'll generate new writing as well as read selections from contemporary writers of all genres to discover what the melding of landscapes can, and should, accomplish.
Laura Pritchett
Laura Pritchett is an award-winning author and editor of fiction and nonfiction.  Her novel, Red Lightning, was released in June 2015, and her newest novel, The Blue Hour, is forthcoming in 2016.  Pritchett's 2014 novel, Stars Go Blue, received starred reviews from Kirkus and Library Journal.  Her nonfiction includes Great Colorado Bear Stories and three edited anthologies: Pulse of the River, Home Land, and Going Green: True Tales from Gleaners, Scavengers, and Dumpster Divers.
Pritchett is the winner of the PEN USA Award for Fiction, the Colorado Book Award, and the Milkweed National Fiction Prize.  She has published over 100 essays and short stories, appearing in such publications as O Magazine, Salon, High Country News, 5280, The Sun, Orion, and others.  She holds a PhD from Purdue University, has been a Pushcart nominee on several occasions, and teaches around the country.
---
Conjuring Words from the Land
We all come to this charmed and challenging place because we love the wild—whether it be in a sidewalk crack, or atop a flowered moraine. But how do we come to terms with this stark and lovely world as writers? In this workshop, we will spend a week parsing the territory where literature meets the land, tugging new writing directly from the soil and leaves. Through prompts, activities, and special readings, you will have a chance to make fresh language inspired by places, people, and other species observed in the natural world around you. We will share our words and responses with one another, sending everyone home with a renewed and broadened palette of expression and imagination.
Robert Michael Pyle
Bob Pyle is the author of twenty books of essay, poetry, and natural history, including Wintergreen (John Burroughs Medal), Where Bigfoot Walks (Guggenheim Fellowship), and Sky Time in Gray's River (National Outdoor Book Award). The founder of the Xerces Society, Pyle is also a widely respected lepidopterist and author of several standard butterfly books including The Butterflies of Cascadia. A recent Kittredge Distinguished Visiting Writer at the University of Montana, he has taught placed-based writing from Tasmania to Tajikistan, Fishtrap to Outpost, and was Werner Writing Resident at Billy Meadows in 2010.
---

Crossing the Borders of our Longing
Powerful poetry is both beautiful and transgressive. Our poetry class will be devoted to confronting our desires, crossing metaphysical borders, and observing the minute details and gestures that make up our environments. The goal is to generate raw, messy material that will then be fashioned into carefully constructed poems. We will revel in the singular beauty of poetry-play by playing with language and experimenting with form. The exercises will involve responding to published poems, engaging with nature, and challenging our most deep-seated perceptions.
Erika L. Sánchez
Erika L. Sánchez is a poet, an author of nonfiction, a 2013 CantoMundo Fellow, and a winner of the 2013 "Discovery"/Boston Review Prize. She has received scholarships from the Fulbright Program and Bread Loaf Writers' Conference. Most recently, she was awarded the Ruth Lilly and Dorothy Sargent Rosenberg Poetry Fellowship from the Poetry Foundation. Her poetry has appeared in the likes of Boston Review, diode, Hayden's Ferry Review, Hunger Mountain, Pleiades, Poetry, "Latino USA" on NPR, and has been anthologized in Please Excuse This Poem: 100 New Poems for the Next Generation (published in 2015). Her nonfiction has been published in Al Jazeera, Cosmopolitan, The Guardian, NBC News, Rolling Stone, Salon, and many others.
---

Haunted Borders: Exploring the Uncanny through Creative Writing
Playful, productive, and ever so slightly disturbing: the uncanny blurs the line between the real and the imagined, the known and the unknown. In this workshop, we'll get acquainted with the concept of the uncanny; generate new writing of our own; and read some quietly unsettling, short fiction. Our own explorations will begin in the domestic interiors of childhood and adolescence: old houses, closets within forbidden rooms, mysterious hotels and railway stations, suburban cul-de-sacs, and gardens. We'll begin in autobiographical fragments, and see where the fragments take us—both in form and subject. Poets, fiction-writers, and lyric essayists are welcome.
Marjorie Sandor
Marjorie Sandor is the author of four books, most recently a memoir The Late Interiors: A Life Under Construction.  Her story collection, Portrait of my Mother, Who Posed Nude in Wartime, won the 2004 National Jewish Book Award in Fiction, and an earlier essay collection, The Night Gardener: A Search for Home won the 2000 Oregon Book Award for literary non-fiction. Her essays and stories have appeared in such journals as The Georgia Review, AGNI, and The Harvard Review, and she has been anthologized in such publications as Best American Short Stories, Pushcart Prize and elsewhere. She is the editor of a new anthology, The Uncanny Reader: Stories from the Shadows (published in 2015 through St. Martin's Press), and currently lives in Corvallis, Oregon, where she teaches in the MFA program at Oregon State University.
---

A Book Arts Workshop!
Writing TO the Book Format; or the Influence of Space on the Writer's Imagination
Every book acts a landscape for story—enveloping the reader with space, borders, and a quiet (but real) environment.  In this workshop, we will explore how the physical structure of a book and the framing of a page can affect the reader, stir the imagination of the writer, and encourage writing itself.
Part generative writing, and part hands-on bookbinding experience—this workshop will observe and discuss a variety of books to explore the relationship between text, page format, materials, and imagery.  Participants will walk away with experience and knowledge of basic bookbinding, creating a variety of book structures that will be linked to daily writing exercises.
Barb Tetenbaum
Barb Tetenbaum is a visual artist interested in the book as a unique space between reader and content. She founded her artist book imprint, Triangular Press, in 1979. She is the honored recipient of grants from the Oregon Arts Commission, the Ford Family Foundation, the Regional Arts and Culture Council, and has received two Fulbright awards to teach in Leipzig, Germany and in Ústí nad Labem, Czech Republic.
Tetenbaum specializes in printed books and installation. She received her B.S. in Fine Art from the University of Wisconsin-Madison, and her MFA in Printmaking from the Art Institute of Chicago. Currently, she is a Professor, and Department Head, of Book Art at Oregon College of Art and Craft in Portland, OR.
---

The Place of Place in Creative Nonfiction
Any good story, whether fictional or "true," depends upon its ability to successfully achieve its own physical reality—the palpable sense that its world does, in fact, exist. It's to this "real" place your reader is invited to enter.
How is this achieved? A story's reality occurs exactly where its voice meets some very specific place, the two working seamlessly to create your story's outside and its inside. This week-long workshop will concentrate on the combination of these two elements, and how their presence in story may come to define us as Western writers.
Jane Vandenburgh
Jane Vandenburgh is a fifth-generation Californian whose forebearers walked the Oregon Trail, and settled at the crossroads on the Columbia as far back as 1854.
Her two novels –Failure to Zigzag and The Physics of Sunset – both concern themselves with the question of what it means to be a Westerner at odds in a culture that has traditionally located its intellectual centers in the East. Her two memoirs, A Pocket History of Sex in the 20th Century and The Wrong Dog Dream, examine themes of loss, dislocation, and the difficulties those of us in the West—particularly women—face in the journey of finding our authentic voices.
Her book on the craft of writing long-form narrative, Architecture of the Novel, is indebted to her experience teaching the yearlong workshop at Fishtrap, beginning in 2008.
---

The Landscape of the Poem: From Eden to Frontier
Much in the same way we witness a tumbling mountain, river, or rocky cove on the coast and think, "This must be Eden," we've all had the experience of reading a poem so astounding—so textured and lovely and true—that it seems as if the poem was not made, but rather transcribed from on high. Yet, every beautiful vista is the result of millions of years of natural forces—of tremendous work—and that poem you love (no matter how perfect) was made, was labored over, reckoned with, and crafted.  In this workshop, we will read and discuss a number of poems, isolating particular poetic frontiers in each, before trying our hand at building similar poems.
Joe Wilkins
Joe Wilkins is the author of a memoir, The Mountain and the Fathers: Growing up on the Big Dry, which won the 2014 GLCA New Writers Award, and two full-length poetry collections, Notes from the Journey Westward and Killing the Murnion Dogs. His third full-length poetry collection, When We Were Birds, is forthcoming from the University of Arkansas Press in Spring 2016.
Wilkins is a Pushcart Prize winner, National Magazine Award finalist, and his essays, poems, and stories have appeared in The Georgia Review, The Southern Review, Harvard Review, The Sun, Orion, and Slate, among other publications.
As the winner of the Boyden Wilderness Writing Residency from PEN Northwest, Wilkins and his family spent the summer of 2015 living in a remote cabin along the Rogue River in the Klamath Mountains. Currently, he lives with his wife, son, and daughter in McMinnville, Oregon, where he teaches writing at Linfield College.
---
Youth Workshops
---
Poetry and Spoken Word: Finding One Voice
Youth Ages 13-17
Writing poetry takes us on a journey of discovery to unknown destinations—which can be both a wondrous, and fearful, thing. Reading aloud, performing one's poems, can often yield the same terrifying and beautiful results. However, despite the fear we may encounter, discovering one's creative voice is always a positive thing. Making the space to search for that voice on paper is essential as it helps you discover the tone that best suits you when sharing work with others. In this workshop we'll craft poems, share our work aloud, and discover different styles and techniques that serve you best, in both the written word and your creative self.
Anis Mojgani
Anis Mojgani is: a two-time National Poetry Slam Individual Champion, winner of the first international World Cup Poetry Slam, and a multiple TEDX Conference speaker. A recipient of a Serenbe Focus Fellowship, a Vermont Studio Center residency, and a residency in the Oregon Writers In The Schools program, Anis' work has appeared on HBO, NPR, and in the pages of such journals as Rattle, Bat City Review, Berkeley Review, Thrush, and Forklift Ohio. A consummate performer, Anis has performed for such varied audiences as the House of Blues, Summit At Sea, and the United Nations, as well as numerous universities and festivals across the globe. He has four books published by Write Bloody Publishing and currently lives in Portland, Oregon.
---

Fishtrap Story Lab Presents: "Frontiers & Fences"
Youth Ages 10-14
Fenced in by boredom? Want to explore the endless frontiers of story? Have fun, and discover your storytelling potential in a workshop that will explore the art of storytelling both in creative writing and on iPads, using iStopmotion, photography, and iMovie. Through a combination of inspiration, exposure to other stories, and techniques focused on craft, the "Frontiers & Fences" workshop will seek to help each student gain confidence in their own voice and storytelling abilities. Because there is no one right way to hop a fence, and no one right way a fence needs to be hopped.
Cameron Scott
Cameron Scott is a poet, fishing guide, and a current Writer in Residence at Fishtrap—where he works with Wallowa youth, implementing Fishtrap Story Lab.  Scott is a graduate from the University of Arizona with an MFA in Poetry, an affiliate of the non-profit Chiloquin Visions in Progress, and was an editor for the anthology, A Democracy of Poets.
He currently writes an outdoor column called Steelhead Nation for the La Grande Observer. His freelance work has appeared in High Country News, The Drake, The Fly Fish Journal, and The Ski Journal.  His poetry has most recently appeared in Borderlands: Texas Poetry Review, Silk Road, The Fly Fish Journal, and Rhino. His forthcoming second book, The Book of Cold Mountain, recently received the Blue Light Press Poetry Award, and was a finalist for the 2015 Colorado Book Awards.
---
 Outpost Workshop
---
Writing Open Country
As writers we explore a perennial frontier, a sense of always something beyond, and we put up certain fences, too—to define, to frame, to mark our presence. What can we take in and express in language from five days in a vastness of grassland, mountainous distance, and arching sky? In poetry, fiction, or nonfiction, participants will discuss readings and generate material in the morning; write individually as well as wander the prairie (and/or take a nap) in the afternoon; read aloud, sing (I hope), and stargaze by night, developing over the course of the week a substantial piece of writing from a place we will feel very lucky to have known.
John Daniel
Author of nine books of poetry, essays, and memoir, John Daniel has taught with Fishtrap in various roles since 1997.  His books of prose, including Rogue River Journal and The Far Corner, have won three Oregon Book Awards for Literary Nonfiction, a Pacific Northwest Booksellers Award, and a fellowship from the National Endowment for the Arts. A former Wallace Stegner Fellow at Stanford University and James Thurber Writer-in-Residence at Ohio State University—and a former logger, hod carrier, railroader, and rock climbing instructor—Daniel lives shrouded in trees and gray weather in the Coast Range foothills of western Oregon. He is very much looking forward to an expansive five days on Zumwalt Prairie.