Writing Workshops – $750
Summer Fishtrap begins Sunday afternoon, July 10, 2016 with a welcome dinner and special evening program. Writing workshops run Monday through Friday mornings from 9-12pm and concludes with the Weekend Gathering ending Saturday July 16 at noon. Click here for 2016 faculty and workshop descriptions. Afternoons include activities, breakout sessions, panel discussions, and open mic readings along with time to write and enjoy the scenery. Each evening features faculty readings and special programming including a keynote presentation by Robert Michael Pyle and Friday night's Fishtrap Live. Workshop registration does not include meals or lodging.

Youth Workshops – $345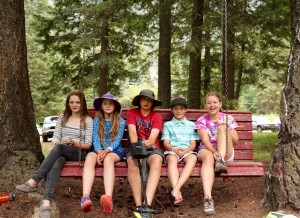 Summer Fishtrap features two Youth Workshops this summer. For students 10-14, we offer Fishtrap Story Lab's digital storytelling workshop where kids create multimedia stories using iPads. 14-17 year olds have the opportunity to write poetry and perform spoken word with instructor Anis Mojgani. Youth workshops run congruently with the adult workshop schedule. Each registered youth is required to have an acting adult sponsor/chaperone onsite who will take responsibility for them when not attending their Workshop. Youth Workshop registration does not include meals or lodging.
 Outpost – $900
Fishtrap's Outpost workshop promotes writing in and about the natural environment by placing writers close to nature. John Daniel leads this year's Outpost program located on The Nature Conservancy's Zumwalt Prairie Preserve from Saturday, July 9, 2016 through Thursday, July 14 at noon. The workshop is located in a rugged area an hour from Enterprise with minimal amenities and no cell phone service. Outpost registration includes all meals, a tent site or bunk, as well as transportation to The Zumwalt Prairie from Fishtrap's office in Enterprise and back. Outpost includes Thursday night's keynote with Robert Michael Pyle at Wallowa Lake. We also encourage participants to register for the Summer Fishtrap Weekend Gathering to round-out their experience. Fee includes all meals and camping through Saturday noon.
 Weekend Gathering – $230
The Summer Fishtrap Weekend Gathering begins Thursday afternoon, July 14 and ends Saturday July 16 at Noon. The Gathering includes a keynote address by Robert Michael Pyle, panel discussions related to the 2016 Summer Fishtrap theme, plus several other weekend activities including Fishtrap Live. The Weekend Gathering includes all meals (Thursday dinner through Saturday brunch). Lodging is not included.
Lodging – $100-850
Summer Fishtrap offers several lodging options from tent spaces and bunkhouse lodging to private deluxe round cabins – we call them "yurts." Cabins are sold as a full space so start talking to your friends about sharing a yurt this summer.  Click here for additional lodging details.
Meals – $66-250
Breakfast, lunch, and dinner are served cafeteria-style at Wallowa Lake Camp's Bailey Lodge and feature fresh local produce. All meals are included for  Weekend Gathering participants.
All Meals: $250 – Sunday Dinner through Saturday Brunch
Breakfast: $79 – Monday through Saturday Brunch
Lunch: $66 – Monday through Friday
Dinner: $105 – Sunday through Friday
Note: Registration fees cover 78% of the full cost of putting on Summer Fishtrap. We rely on donations from foundations and individuals to help us make up the difference.  Donations to our scholarship funds  keep Fishtrap accessible to a wide range of writers. Thank you for any support you can offer.
Refund and Cancellation Policy
$100 of your registration fee is considered a non refundable deposit.
100% refund if you cancel by May 1, 2016 (minus $100 deposit).
50% refund if you cancel by June 1, 2016 (minus $100 deposit).
No refunds are given beginning June 2, 2016
Please get in touch with us if you have to cancel after June 1 as we may be able to find someone on the waiting list to take your spot. If it is necessary for Fishtrap to cancel a workshop, you will be notified promptly and may choose to enroll in another workshop or receive a full refund including the deposit.